Prototype construction
Mechanical and thermal development
Feasibility studies
Software development
Electric engineering
KTEG ZE19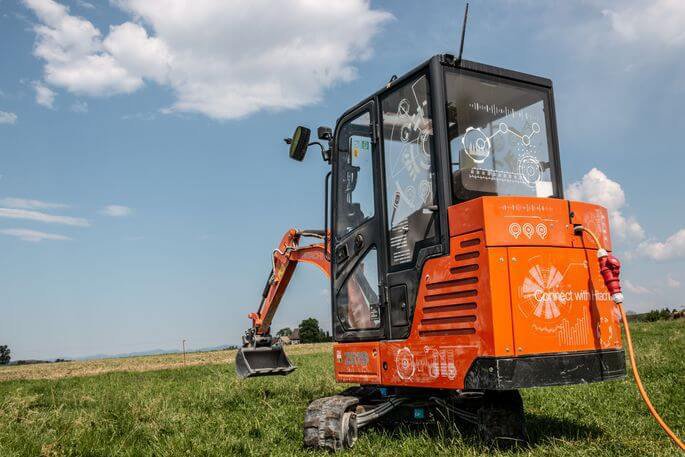 Introduction
Together with KTEG GmbH, we have developed a battery-powered 2 ton electric excavator. The excavator developed by SUNCAR HK is equipped with long-life Li-ion batteries and emits no emissions locally. Calculated over the entire product life, it produces significantly fewer emissions than the underlying models with combustion engines. It is also significantly quieter in operation.
Project goals
› 12 kW max. drive power
› Continuously variable speed control
› Comprehensive safety concept
→ No loss of performance compared to diesel
→ Protects people and the environment
Powerful on-board charging system
› Stowable charging connection (400V / 32A)
› Very short charging time (max. 50 min)
› Charge and work at the same time
→ Increases productivity
→ Saves time
Excellent maintenance accessibility
› Maintenance-free electric motor
› Easy accessibility to all service points
→ Saves time and maintenance costs
Large multifunction color monitor
› Clear display of all relevant system parameters and
› Access to all functions through multifunction control
› Optimally positioned
→ Increases comfort
→ Easy to operate
Telematics system as standard
› Machine monitoring for the whole of Europe
› Decentralized control of the machine status
› Remote maintenance of the battery system possible
→ Increases safety
→ Saves maintenance costs
Results
The ZECOM excavator (Zero Emission Construction Machinery) can be operated in both battery and cable mode. It has an onboard charger and can be charged within a very short time. The ZE19 needs only 1 h to be fully charged. The runtime is 2.5 h.
Wollen Sie eine Maschine oder ein Fahrzeug elektrifizieren? Dann sind wir Ihr Partner!
Wir begleiten Sie, von der Machbarkeitsstudie, über die Konzeption und Konstruktion bis hin zum Bau des Prototyps oder einer Kleinserie und darüber hinaus.